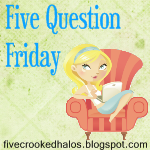 1. Would you rather be on ABC's Extreme Home MakeOver or TLC's What not to Wear?
Extreme Makeover Home Edition hands down! I love comfortable in my clothes fashion isn't really my thing, but I'm not so outdated that I need serious intervention.
2. Do you have any tattoos?
Not a chance. My fear of needles FARRRRRRRRRRRRR outweighs anything I could think I would want on my body for eternity.
3. Do you tell your kids about things you did growing up?
All the time! The love to hear about when we were kids--at least for now, they still like it! I'm sure soon enough we'll be "lame".
4. If the traffic signal turns yellow, do you stop or speed up?
I never speed up, but if I will make it by maintaining my speed, I go through. Always err on the side of caution!
5. What's your preference: chocolate or chips?
Tough question!! Sometimes I need salty and sometimes I need sweet! The best is popcorn with peanut M&Ms--perfect mix.